ROTARY CLUB OF LAHORE GARRISON DONATES AMBULANCE
LAHORE (PR) - Rotary Club of Lahore Garrison delivered an ambulance to Kujer village in Sheikhupura through The Rotary Foundation Matching Grant programme. Rotary Club of Glenville and Rotary International Districts 7190 (USA) and 7000 (Puerto Rico) sponsored the grant. Rotarian Lon Penna from Rotary Glenville and his wife, Helen, participated in the ceremony. Rotarian Shehzad Ahmed, local coordinator of the Matching Grant, informed the villagers about their responsibility to use the ambulance for the specified purpose and that the villagers should take good care of it so that it lasts longer. The villagers thanked the Rotary Clubs for their generosity. Aslam Shahab, Iqbal Malik Bali and other notables of the village also attended the meeting.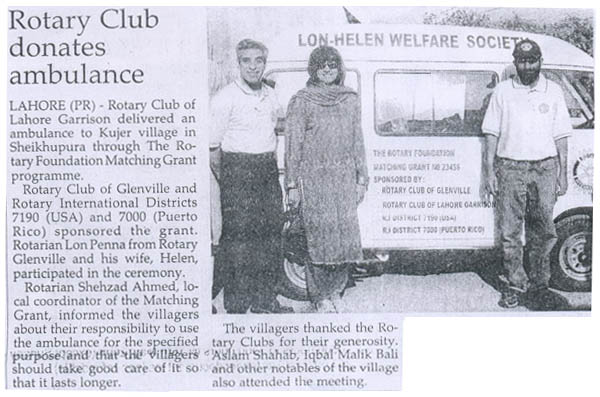 The Nation
(May 01, 2005)
---
ROTARY CLUB OF LAHORE GARRISON DONATES COMPUTER LAB

Rotary Club of Lahore Garrison donated a Computer Lab consisting of ten Pentium IV computers, scanner and laser printer to Kujer village in Sheikhupura through The Rotary Foundation Matching Grant programme. According to a press release Saturday, Rotary Club of Glenville and Rotary International Districts 7190, 7620 and 7870 in the USA were the international sponsors. Rotarian Lawrence Penna from Rotary Club of Glenville and his wife, Helen, visited the computer lab. Rotarian Shehzad Ahmed, District Chairman of the Matching Grants, informed that Frank Quinn, a Rotary Volunteer, assisted in setting up the lab. He also informed other volunteers were helping in smooth functioning of the lab. The lab students are ranging from 4 to 50 years old, he informed.
The Rotary Foundation has provided more than 140 Matching Grants with funding around US$ 2 million to benefit the poor residents of Pakistan. Rotary Club of Lahore Garrison, in close association with Rotary Club of Glenville, is currently working on five Matching Grants in Punjab for providing basic necessities to schools in rural Sheikhupura and rural Faisalabad.
The News
May 1, 2005
---
WALK BY ROTARY CLUB
Rotary Clubs in Lahore organized a very successful Rotary Centennial Polio Awareness Walk from AlHamra Hall to LDA Plaza, Egerton Road to commemorate the Rotary Centennial celebrations. District Governor Rauf Rohaila and Governor Nominees Ateeq Barry, Shakil Ansari and Aziz Memon led the Walk besides other notable Rotarians. The Walk had active participation from UNICEF, the Health department, PARADISE, Descon IT24 and from professional belonging to various walks of life. The participants showed their enthusiasm by holding banners and by wearing Rotary caps showing Rotary Centennial and Polio awareness messages. The speakers urged the participants and the masses to actively participate in the war against Polio so that Pakistan can be made Polio free. There are only six countries in the world left with Polio and unfortunately Pakistan is one of them. Children are our assets and future of our nation. It is our duty to keep them safe and healthy by providing the Polio vaccine drops to the children on the National Immunization Days (NIDs). Polio eradication dream can only be realized if we all work together and provide one hundred percent coverage of polio vaccine to all children under five years of age. Rotarian Shehzad Ahmed, organizer of the Walk informed that Rotary banners have been displayed on New Khan buses and four floats have specially been designed to create awareness about the various service projects being undertaken by Rotary.
The Nation
February 24, 2005
---

ROTARY CLUB AND IPP RTN. SHEHZAD AHMED HONORED BY THE RISING SUN INSTITUTE

Rising Sun Institute (for Special Children) honored Rotary Club of Lahore Garrison and Past President Rtn. Shehzad Ahmed for their dedication and commitment towards the cause of Special children in the Annual Dinner function held at the DHA Community Center, Lahore Cantt.
---
MESSAGE FROM OUTGOING PRESIDENT
Dear members of Rotary Club of Lahore Garrison, fellow Rotarians and friends,
I am thankful to the Almighty Allah for giving me the vision and dedication to complete my year as the Club President with dignity and honor. I am thankful that all our efforts bore fruit and the Club achieved great honors in all avenues of service. This was apparent from the congratulatory notes and messages that I received throughout the year. All of this happened due to the commitment and continued support of all our members including the board of directors and the prayers and support of all fellow Rotarians and friends of Rotary throughout Pakistan and abroad.
Our Club actively supported activities of our Innerwheel Club and Rotaract Club. We also formed our Interact Club to complete our Rotary family and joined the few Rotary Clubs in the District 3270 which can boast of the same honor. We also sponsored the youngest Club of our District - Rotary Club of Sialkot - and hope to repeat the same feat of sponsoring more Clubs next year, inshallah.
I am also thankful to all friends who attended our Charter Night/Annual Dinner function, which we organized in the Government Primary School, Lucklines, Cavalry Ground, Lahore Cantt, and observed the transformation of a ruined school building into a lively place, thanks to a Matching Grant from The Rotary Foundation with R.I. District 2430 (Turkey) being its International Sponsor.
We have printed a Souvenir Book to celebrate our Charter Night which provides our Club History and description about our current and future Matching Grant projects. It also provides information about our Rotary family - Innerwheel Club, Rotaract Club and the Interact Club.
We were fortunate to get funds for three Matching Grants worth US$ 34,000. The Lucklines School grant (MG 14842) is almost near completion and we hope to complete it by the end of July 2002. The other two Matching Grants (MG 19352 and MG 19828) are for the supply of Medical equipment to Safia Hanif Trust Hospital for treatment of poor patients. We hope to complete these two grants by the end of August 2002, inshallah. We are also lucky to get sponsors for two other Matching Grant proposals (worth US$ 25,000) for which we hope to get approval of The Rotary Foundation by the end of December 2002. These are for the supply of computers and basic necessities in another government school.
I have updated our Club web site (www.rotarylahoregarrison.org) and the Picture Gallery Link shows photographs of our current Matching Grant projects.
We also take pride in the fact that we have been officially and unofficially acknowledged as Matching Grant Guides for the whole District 3270. It gives us a lot of encouragement when we get calls/emails from Rotarian friends from far off areas like Karachi, Peshawar, Multan, Hydedrabad, Islamabad etc., in addition to Rotarians from Lahore and its vicinity, asking for copies of our Matching Grant proposals. Our goal is that each Club in our District 3270 should submit at least one Matching Grant every year for the benefit of humanity. We will provide all possible support to realize this dream.
Our Club has also been encouraging fellow Rotarians to use the Internet and official Rotary web site (www.rotary.org) for making changes in their club data. This includes online submission of Semi-Annual Reports data. This is an economical as well as a much faster way of communicating with the Rotary International. I have prepared a step by step instructions to assist fellow Rotarians, and have been providing its copy to Rotarian friends who have asked about it.
With this Rotary year coming to a close, I have been assigned another responsibility of being Assistant Governor for Zone I for the coming year. I pray to the Almighty that He gives me the vision and courage to do justice with the new responsibility (Ameen). I also look forward to the same continued support from all of you in discharging my new duties and responsibilities.
God bless you all. Remember me in your prayers.

Yours in Rotary,

Rtn. Shehzad Ahmed, PHF
Assistant Governor (2002-03)
President (2001-02)
Rotary Club of Lahore Garrison, District 3270 (Pakistan)
www.rotarylahoregarrison.org
242-B Shalimar Lane, Cavalry Grounds Extension
Lahore Cantt, Pakistan
Tel: (92 42) 6667164, 6681251
Fax: (92 42) 6667031
Mobile: (92 300) 8402556