Lahore - A US relief team consisting of Dan Carpenter from World-In-Need and Joe Hurston from Air Mobile Ministries met unjab Governor LT Gen (r) Khalid Maqbool here Wednesday and informed him about its relief efforts. They told the governor that World-In-Need had already shipped containers of medical and food supplies and was planning to send more supplies after this exploratory trip.
The governor briefed the team about the relief efforts being carried out by the government and highlighted areas that have the greatest need. It is pertinent to note that the US relief team has come in Pakistan on the initiative of Rotarians from Houston, USA notably Syed Ahmed, who have been instrumental in sending large supplies of tents, blankets and other relief supplies through PIA flights from Houston. Rotarian Shehzad Ahmed from Rotary Club of Lahore Garrison, who is coordinating the trip of US team in Pakistan, informed the governor about the relief efforts being carried out by Rotary Clubs in Pakistan as well as
abroad.
The US team will visit the quake-hit areas to get the first hand information and donate portable water purifier systems and
other goods that the team has brought with them. They will also visit the relief commissioner's office and meet Minister of
State Dr. Nasim Ashraf and the chairman National Commission for Human
Development to explore areas of further cooperation.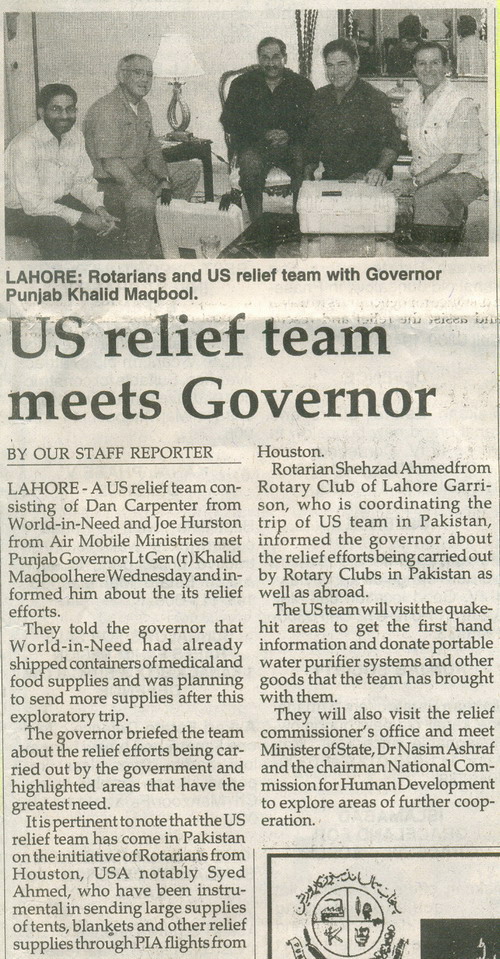 Source: The Nation (November 03, 2005)